 Her First Litter

updated 5/15/10

Will update pics each week!

This litter is all sold.

Puppies 

Pocketbook Pups

AKC Yorkshire Terriers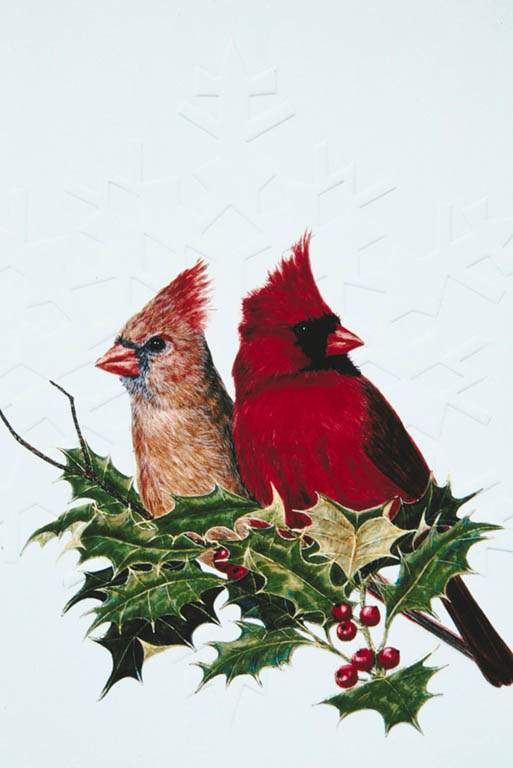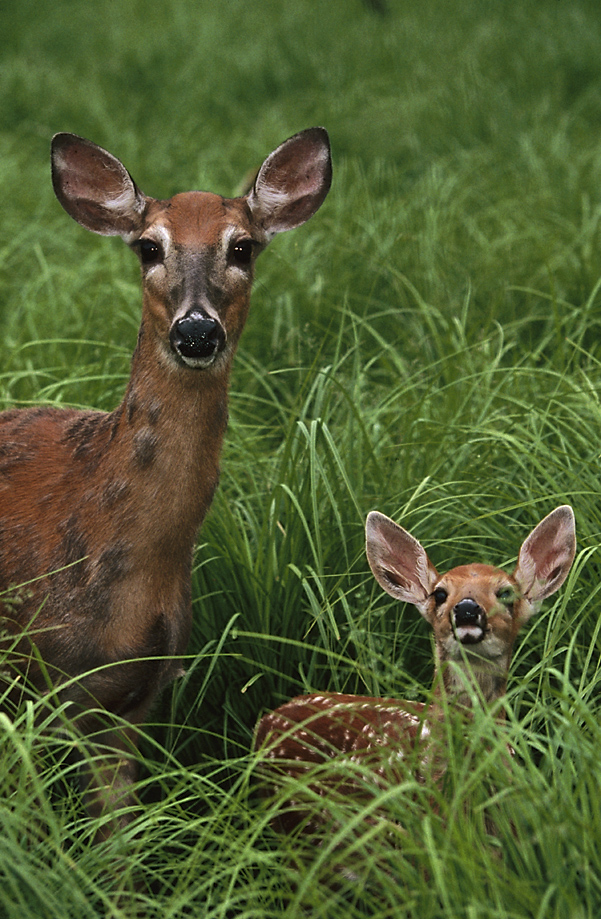 Luccese's Punchy Lady X Salty Dogs Skeeter

Otherwise known as "Lady Ecco" owned by Blake Moeller                                     

Three females and one male born January 27, 2010.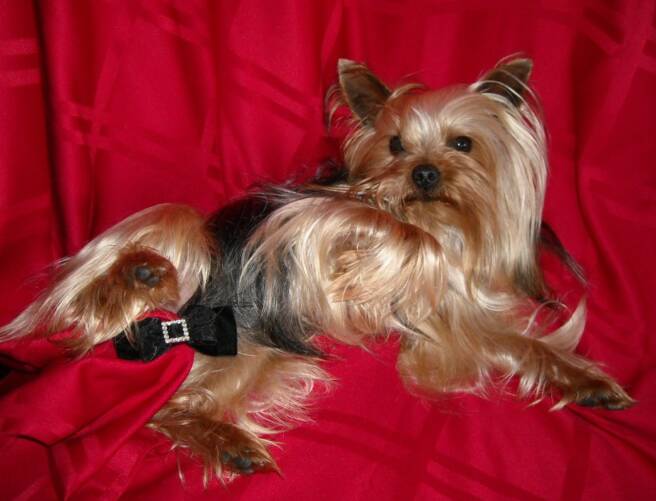 "Lady Ecco" is a great mom!    The pups were born about 15 minutes apart and they are all doing great.  All four are nursing and active. 

Pocketbook pups provide a puppy care package with each puppy.  It has almost everything you need for your new Yorkie.

You just have to add the love - and that

comes very easy!  We try to help in every

way so that your new pet will transition from

our home to yours as easily as possible.

Our eyes are open and we are at mommy's day out.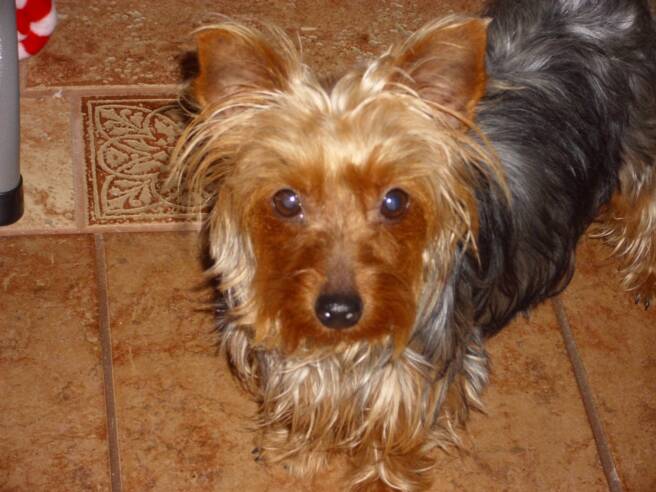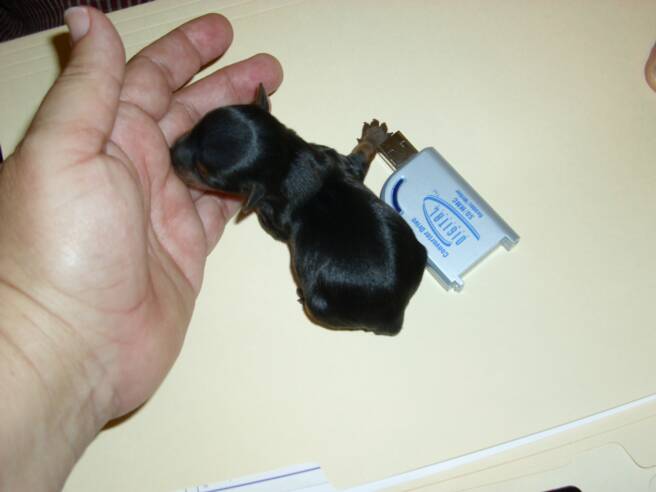 Talk about Tiny!  Now she is Tiny!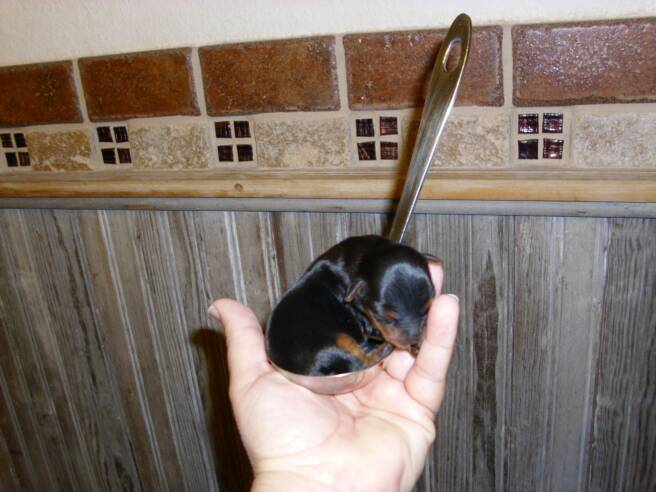 Only 110 grams per spoonful~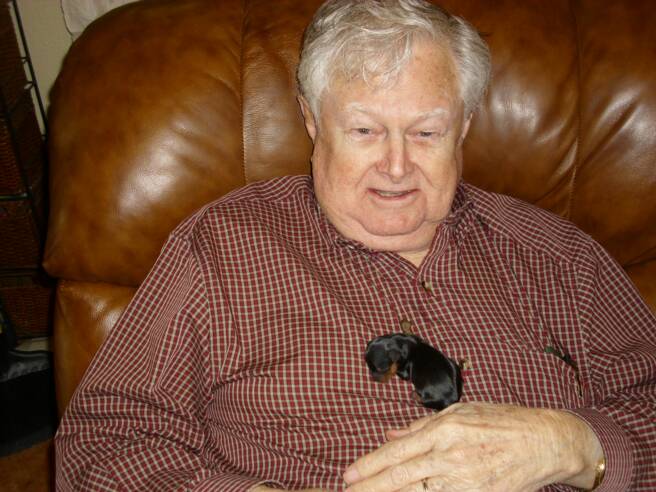 Even Paw Paw loves our Pocketbook Pups!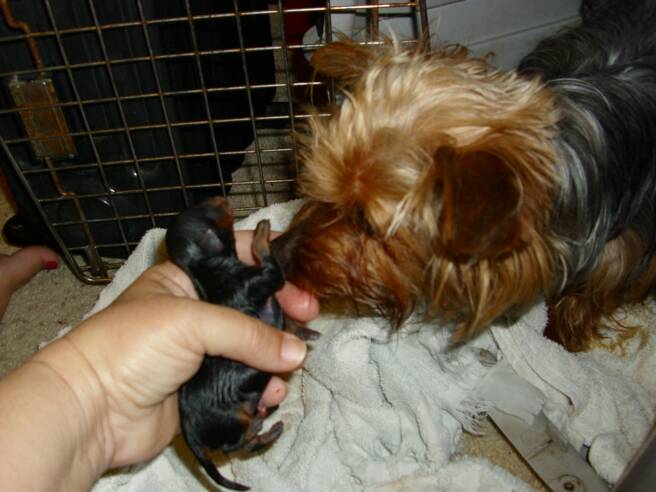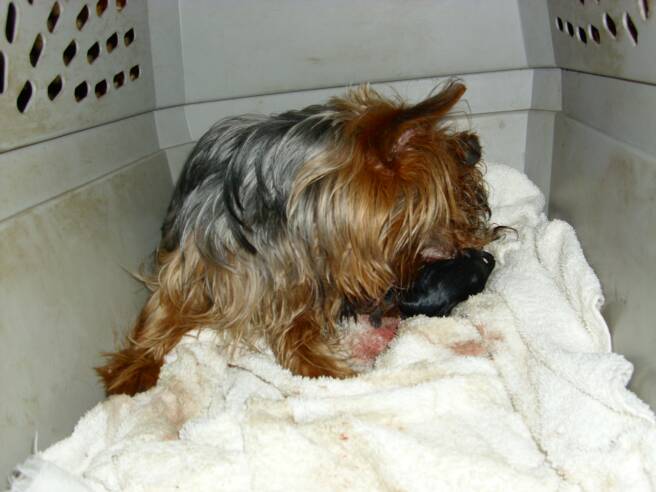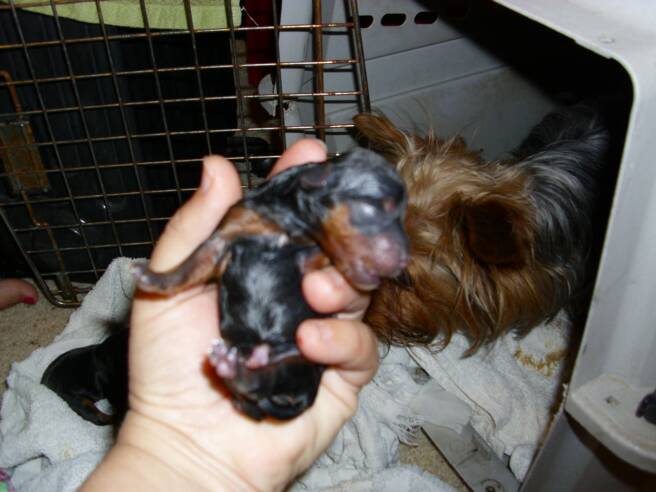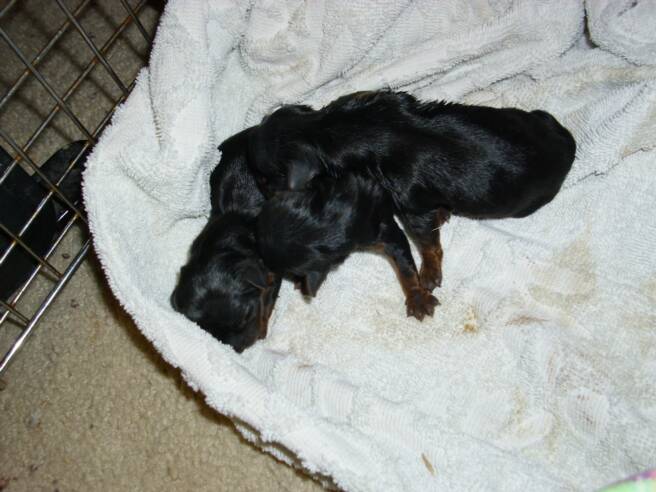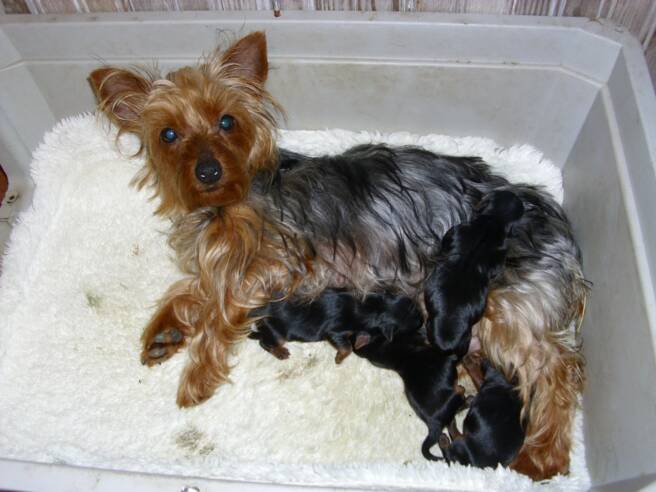 One day old with full tummys!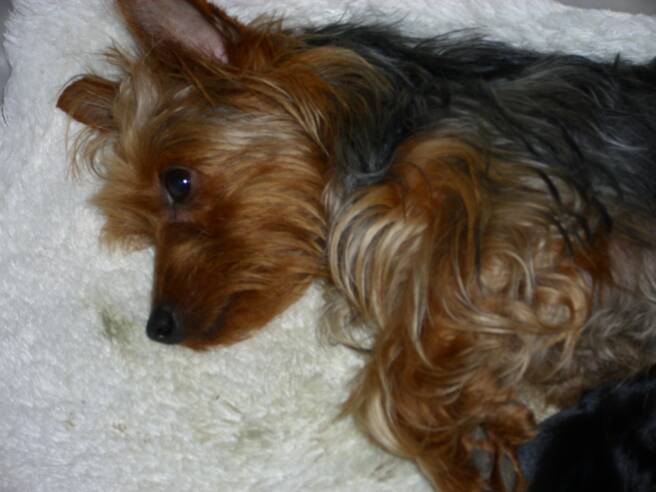 Lady Ecco has a rich deep gold color on her face and legs.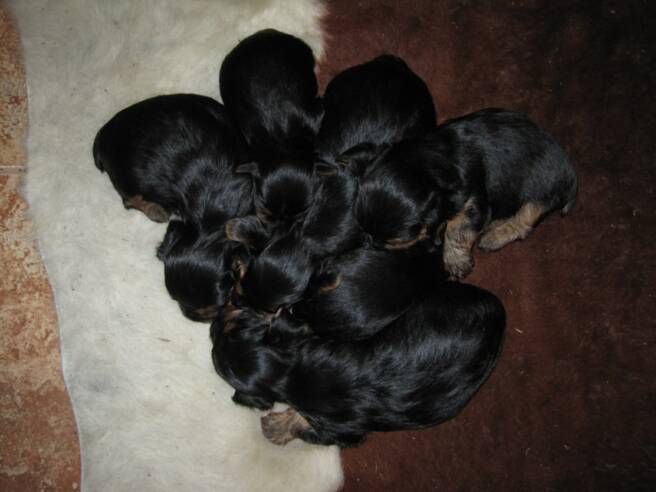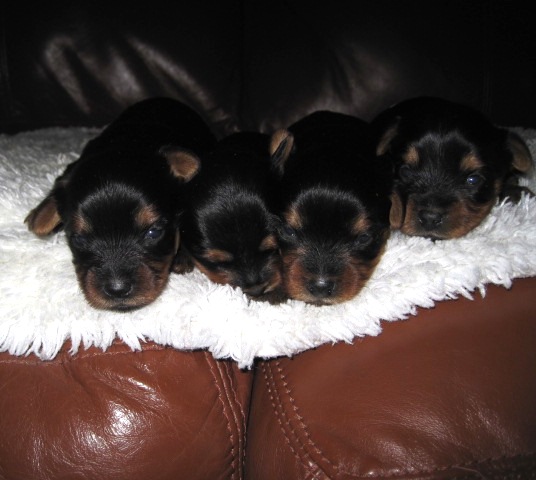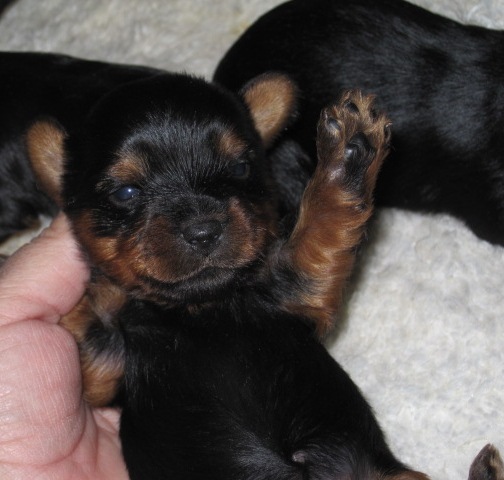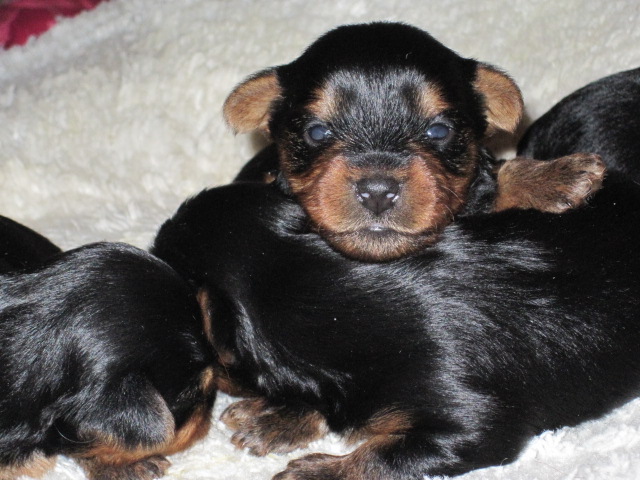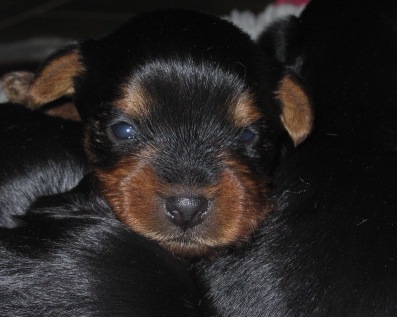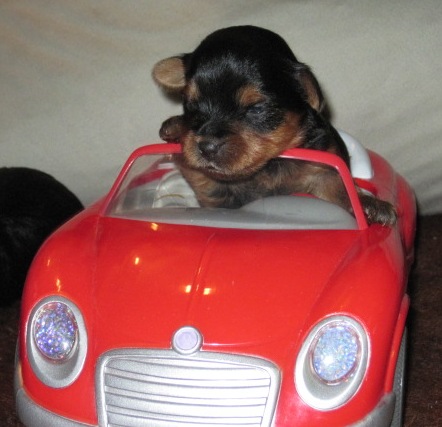 Just Crusin Along in My New Red Car!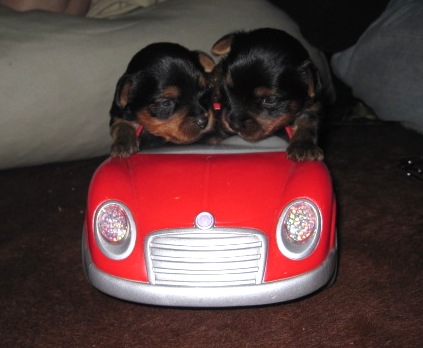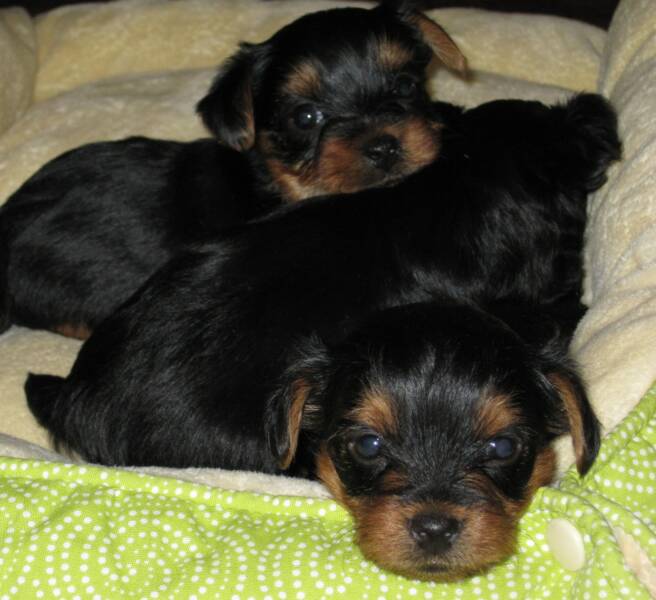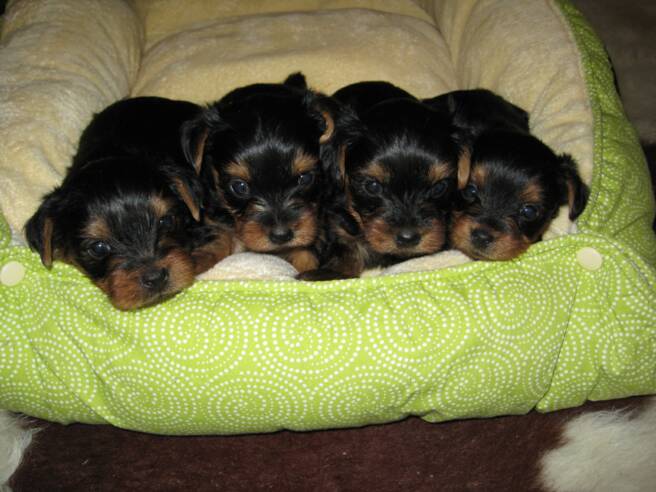 Getting Cuter Everyday!   (4 weeks)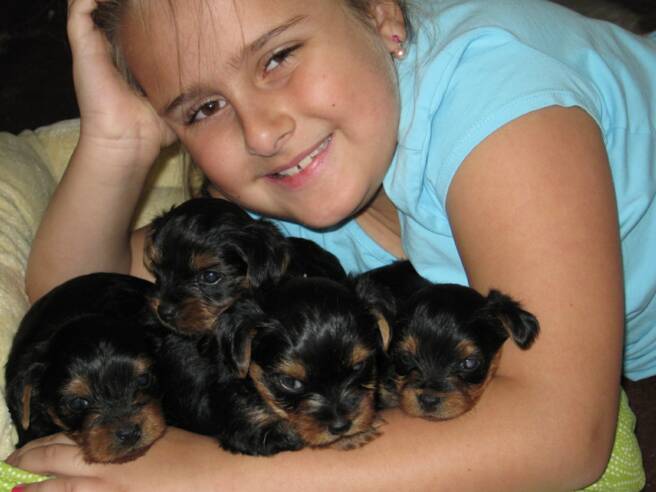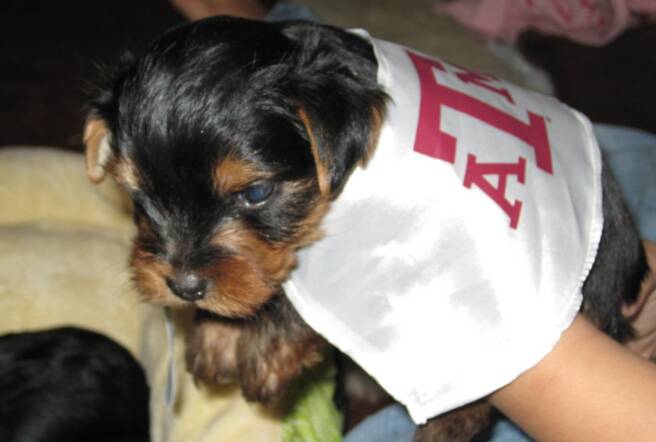 Picture to right:

Heather Reppond and Blake Moeller.

Blake raises AKC Yorkshire Terriers in College Station, TX.  Both Heather and Blake are pursuing their degrees in Agriculture from Texas A & M University.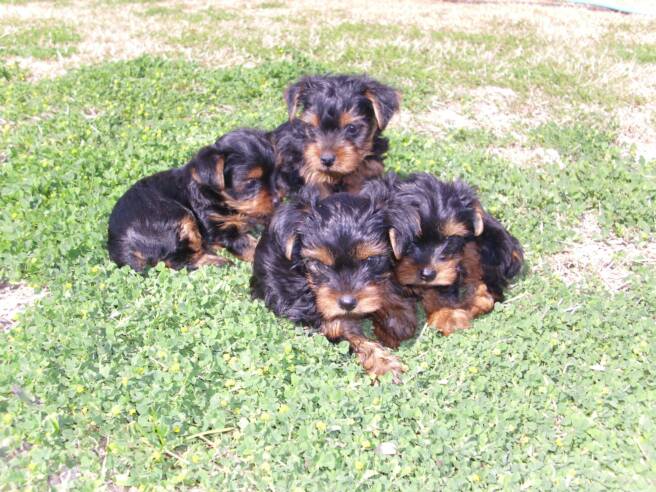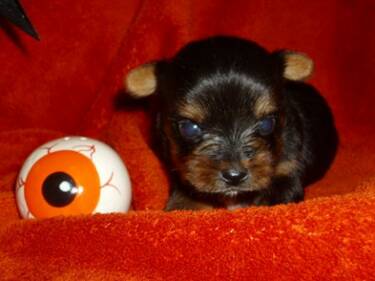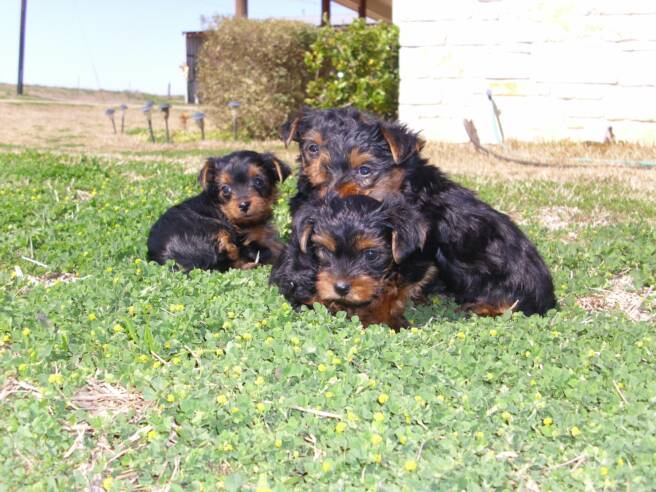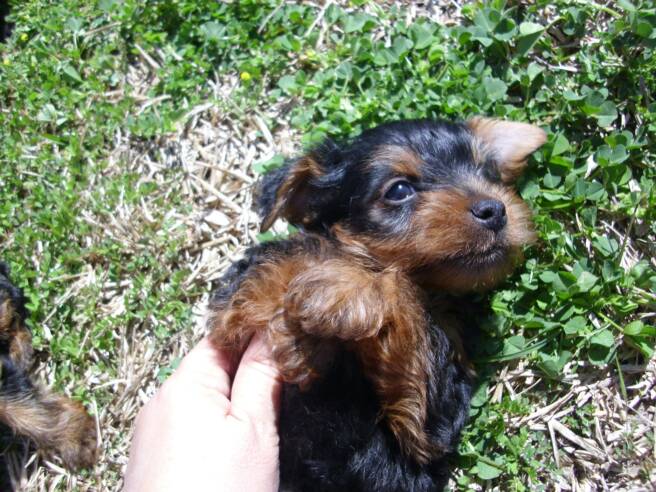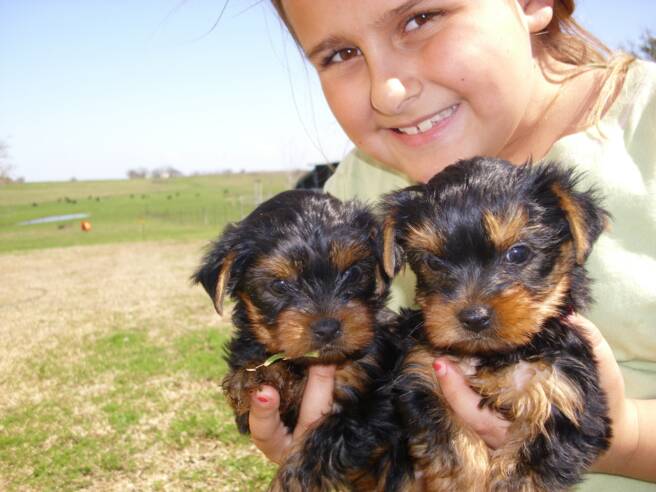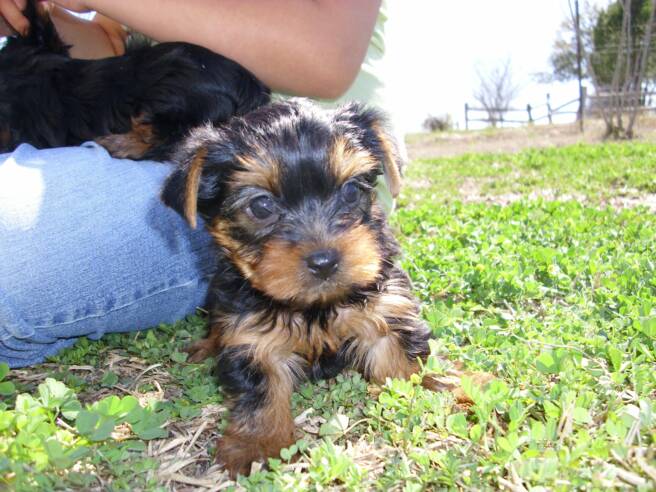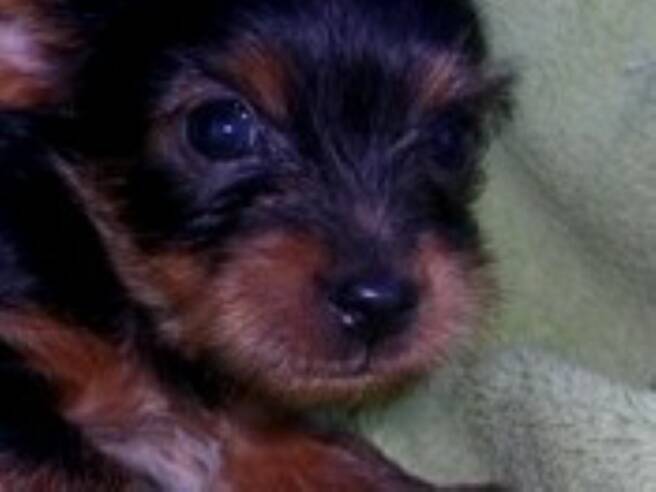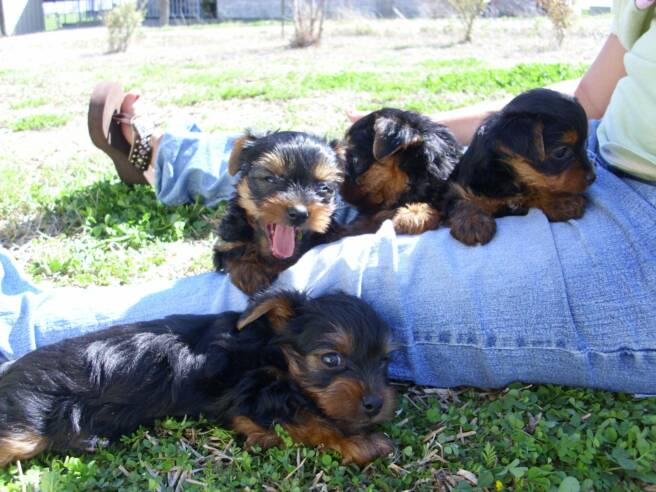 Nice square muzzles and beautiful rich gold color on face and legs.

Pictured below at 6 weeks.  We got our 1st shots today!

SOLD to Mauri and Nick Blankenship, Caldwell, Tx.

Mauri and Nick purchased one of Ecco's and Betty Lou's female puppies.  They were both adorable and I'm so thrilled they went to such a great home.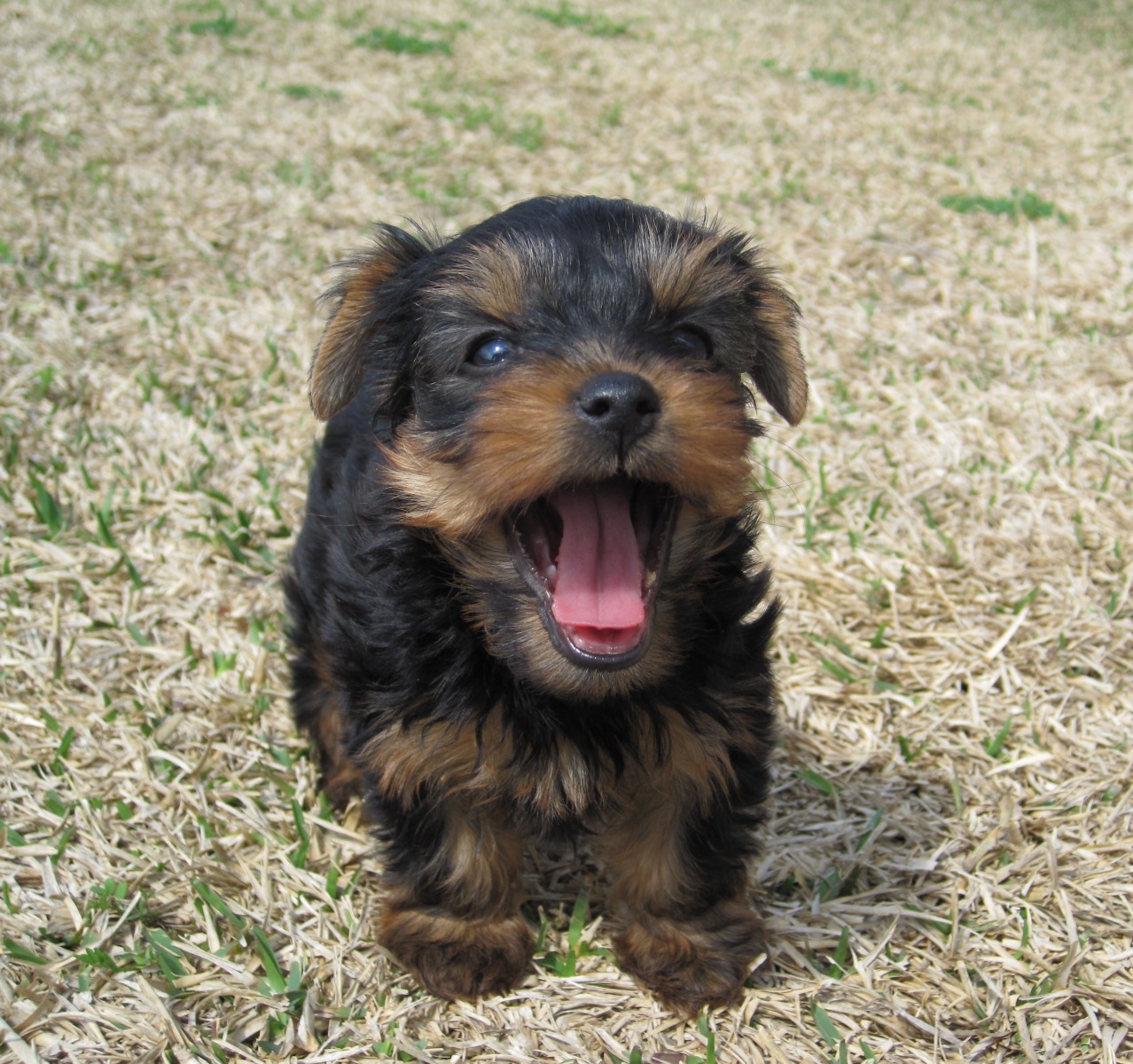 I'm sold to Mauri and Nick!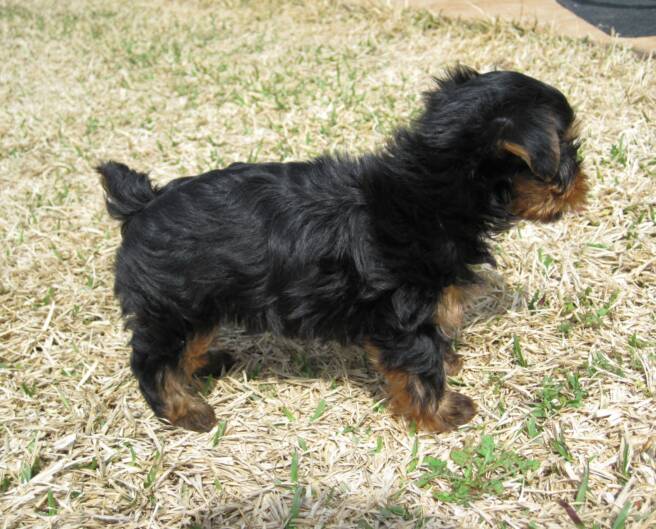 She has an excellent form, tail and thick coat.                 What a cutie pie!!!!!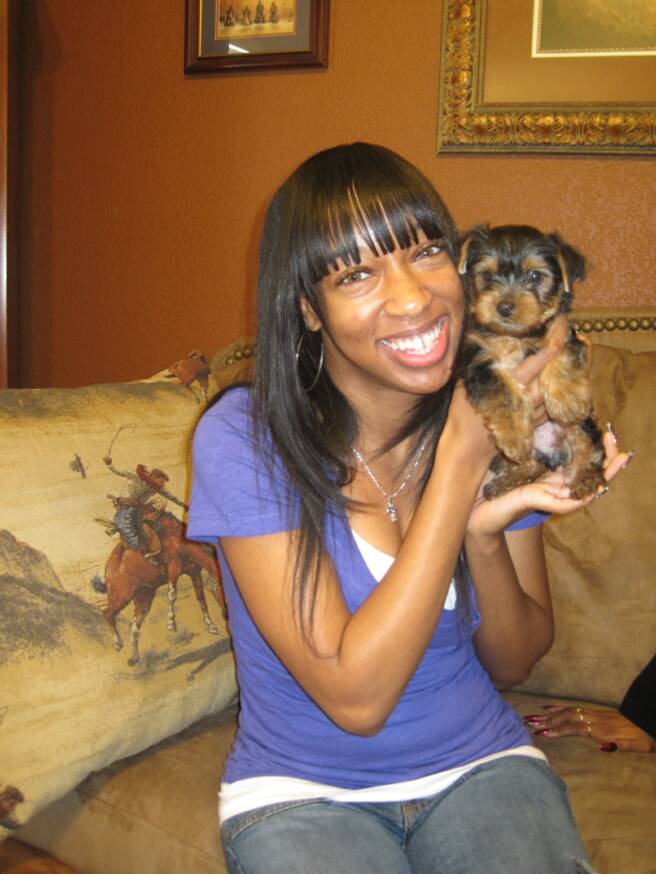 Today 3/13/10, Ecco's male puppy found a new mom and family.

Parese  B. will taking her yorkie to his new home very soon.  This week Pocketbook Pups will be working on potty training with positive reinforcement and treats.  He is very playful and we hope he brings her many wonderful years of companionship.  Don't they look adorable?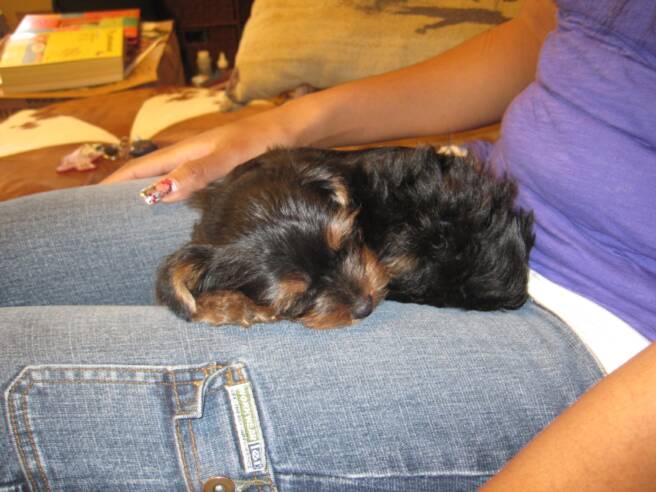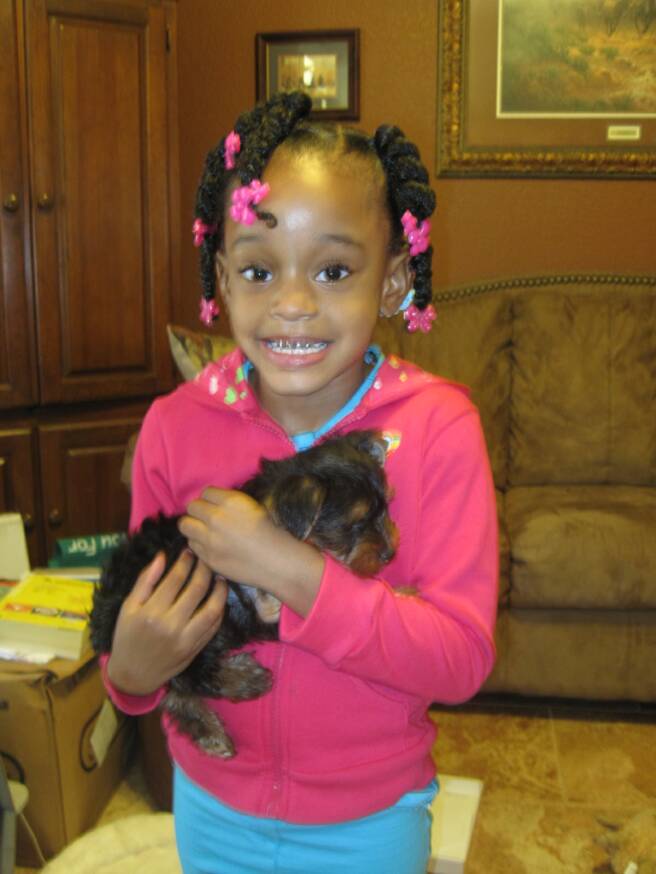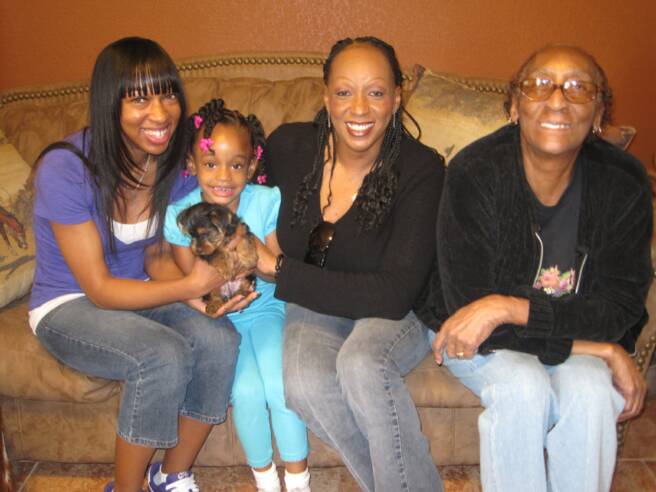 We are so fortunate to have wonderful families  buy our puppies!

(Pictured left to right)

Parese, " Roc", Kennedy, Beverly and Mrs. Rhodes.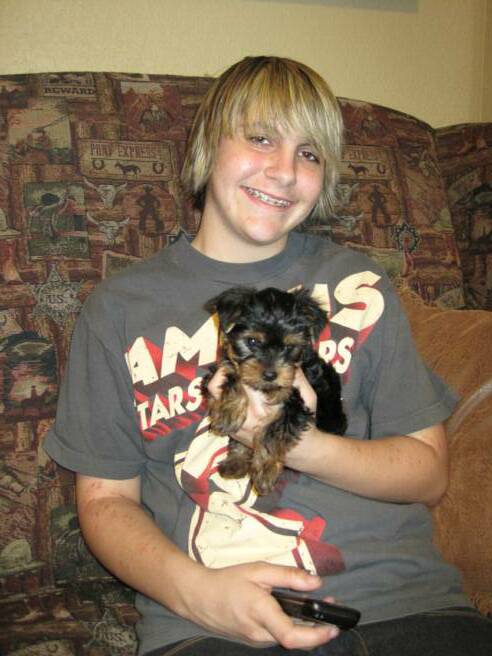 Natilee is holding her adorable new female yorkie.

We are waiting on news of her new name.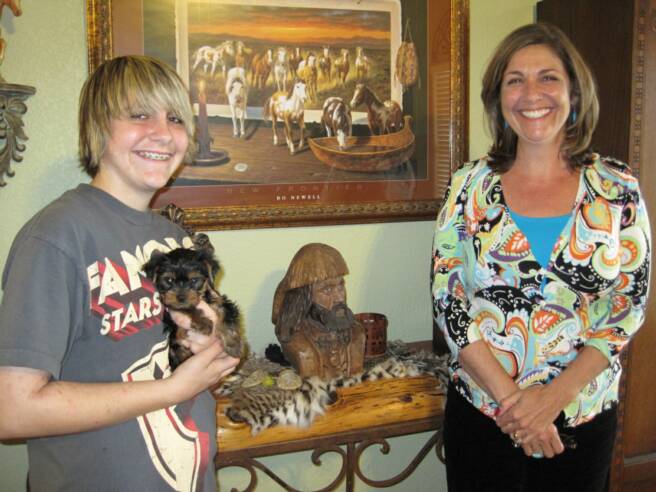 SOLD to:

Natilee, and Tammie Berry.  Tammie is a dear friend of mine from High School in Austin, Tx. She has always been an animal lover but I don't think she has ever owned a Yorkie!  I can't wait to hear what they think about this little gal !

Tammie's wonderful dad hand carved the trapper on our enrty table. Bill McCorkle is a master craftsman!  I gave this to my husband 15 years ago for a wedding present.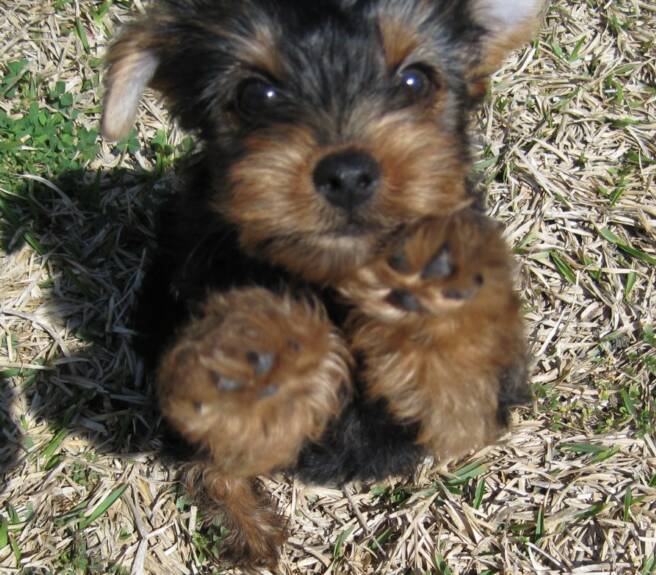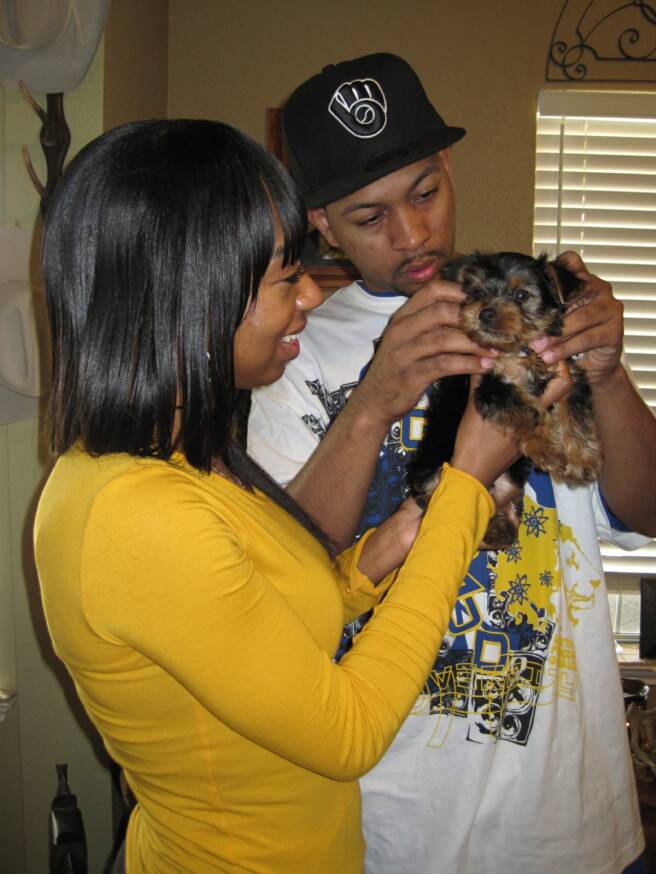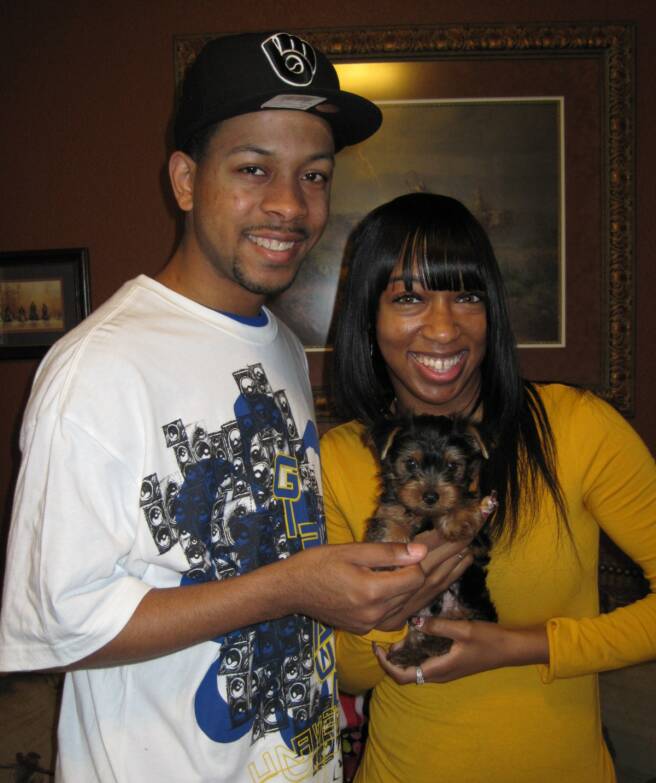 Pick up day!  Roc is looking adorable and is so smart.  Parese and Brandon are adjusting his collar.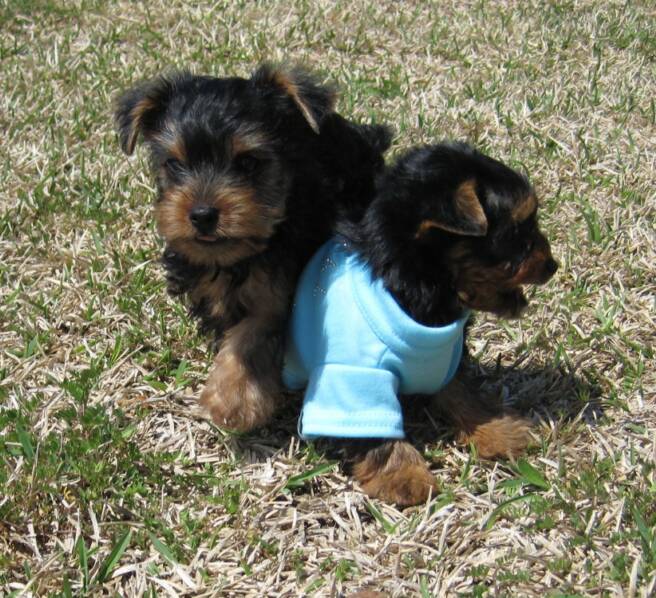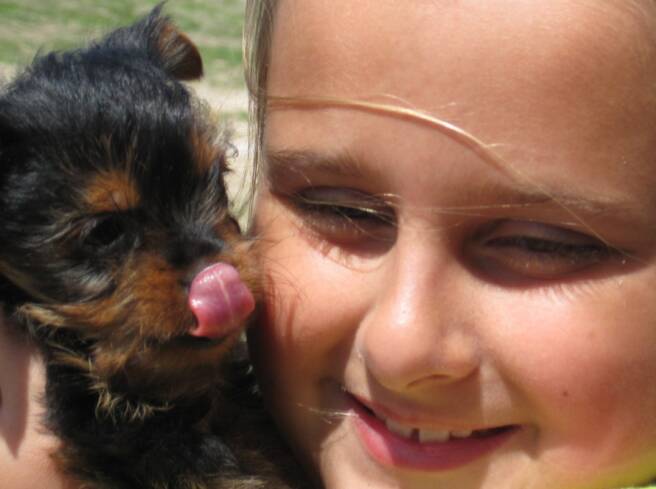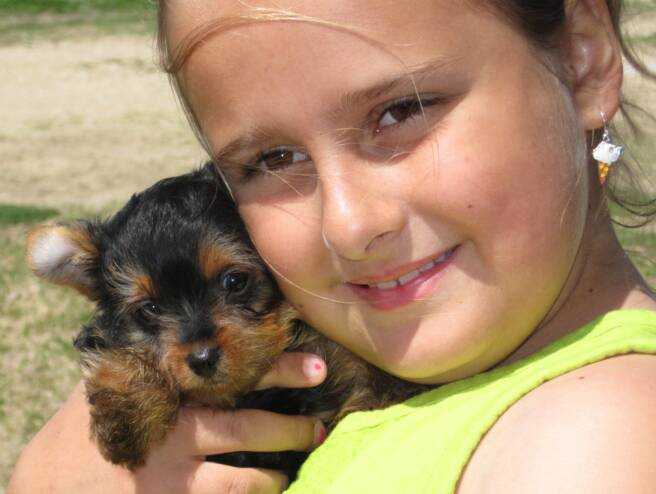 I'm 7 weeks old and available! I am very small and have lots of love to give. If you're looking for a tiny female here I am!      Call 512-657-0072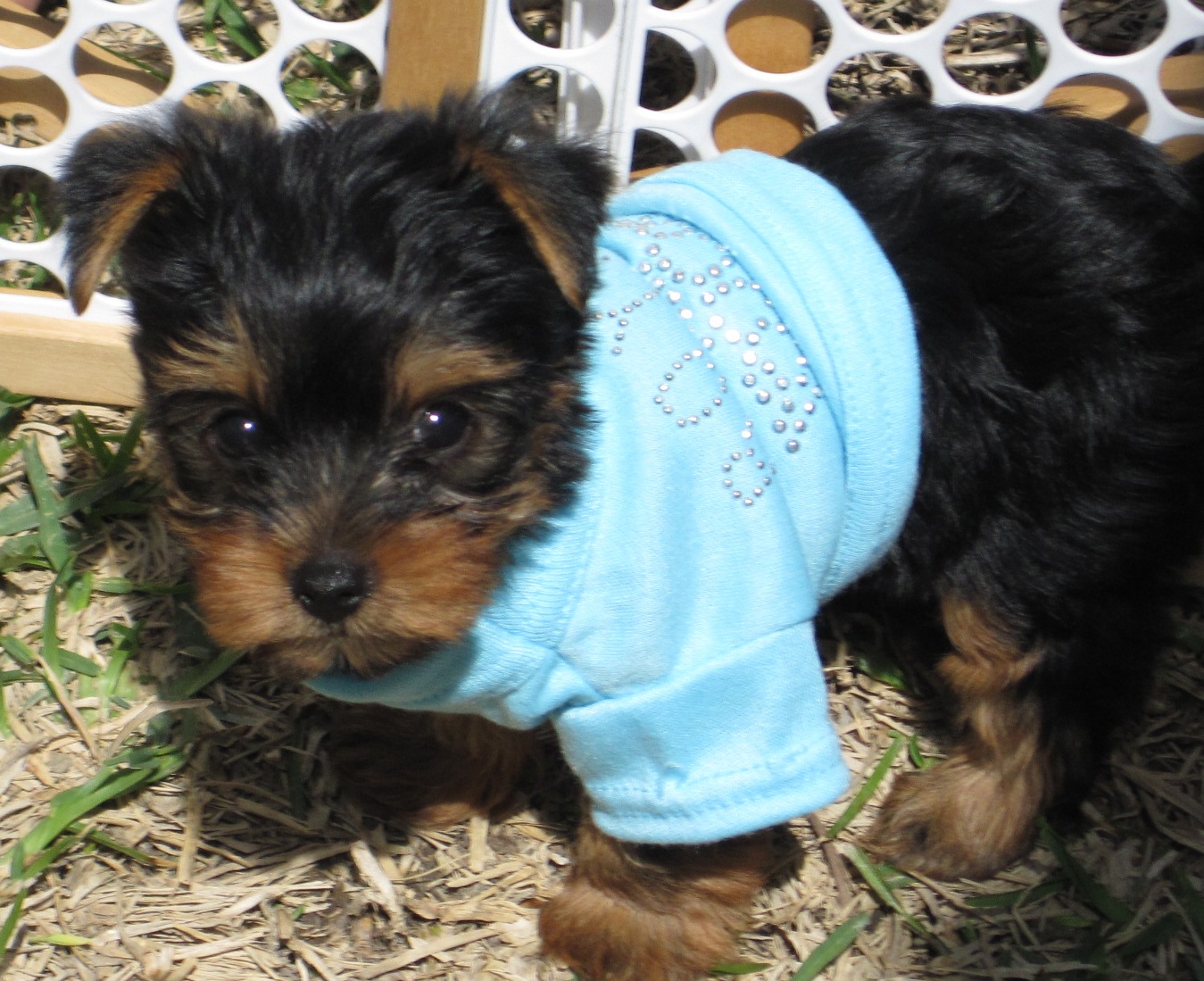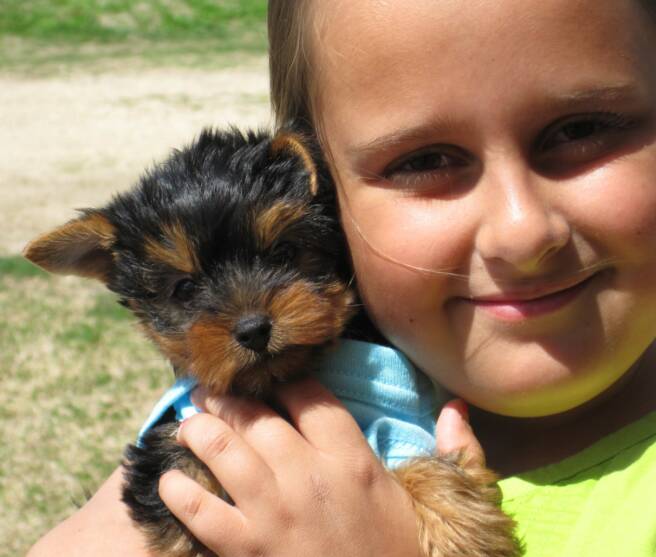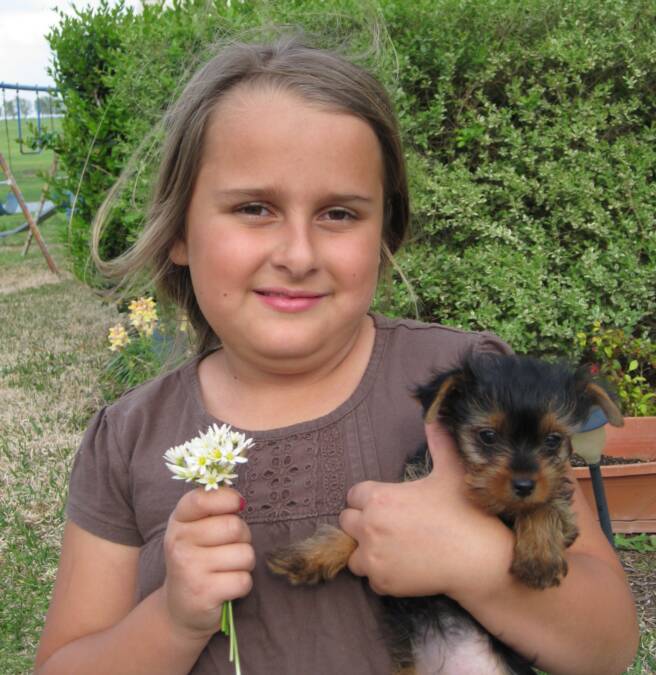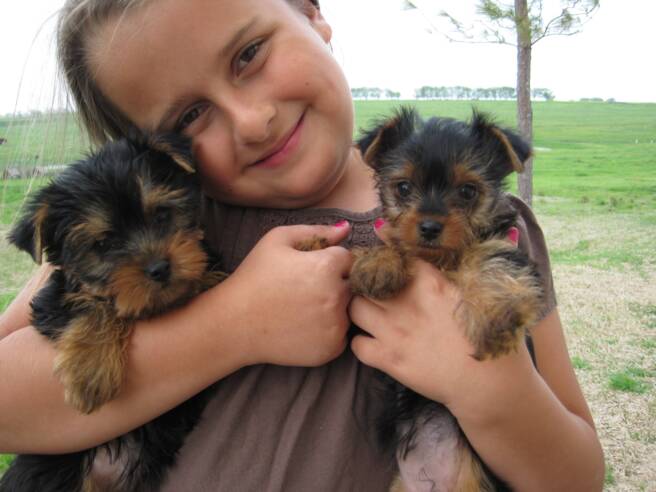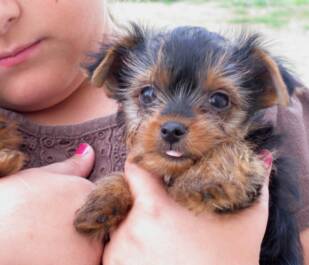 This little gal is full of spunk and sweet as can be.  She is super healthy and has a tiny little face. 

      Eleven week old female

****  with 1 year health guarentee and puppy package

**** adult weight approx. 3.5 pounds. - very tiny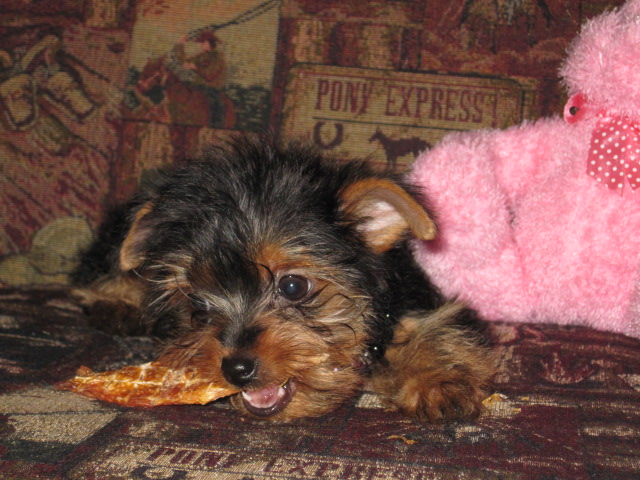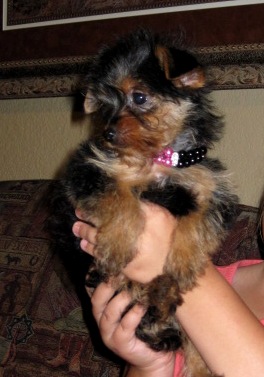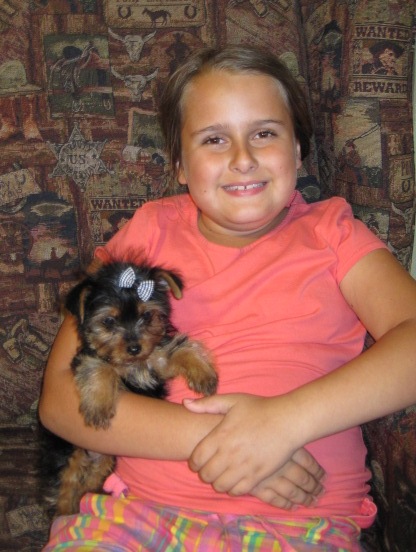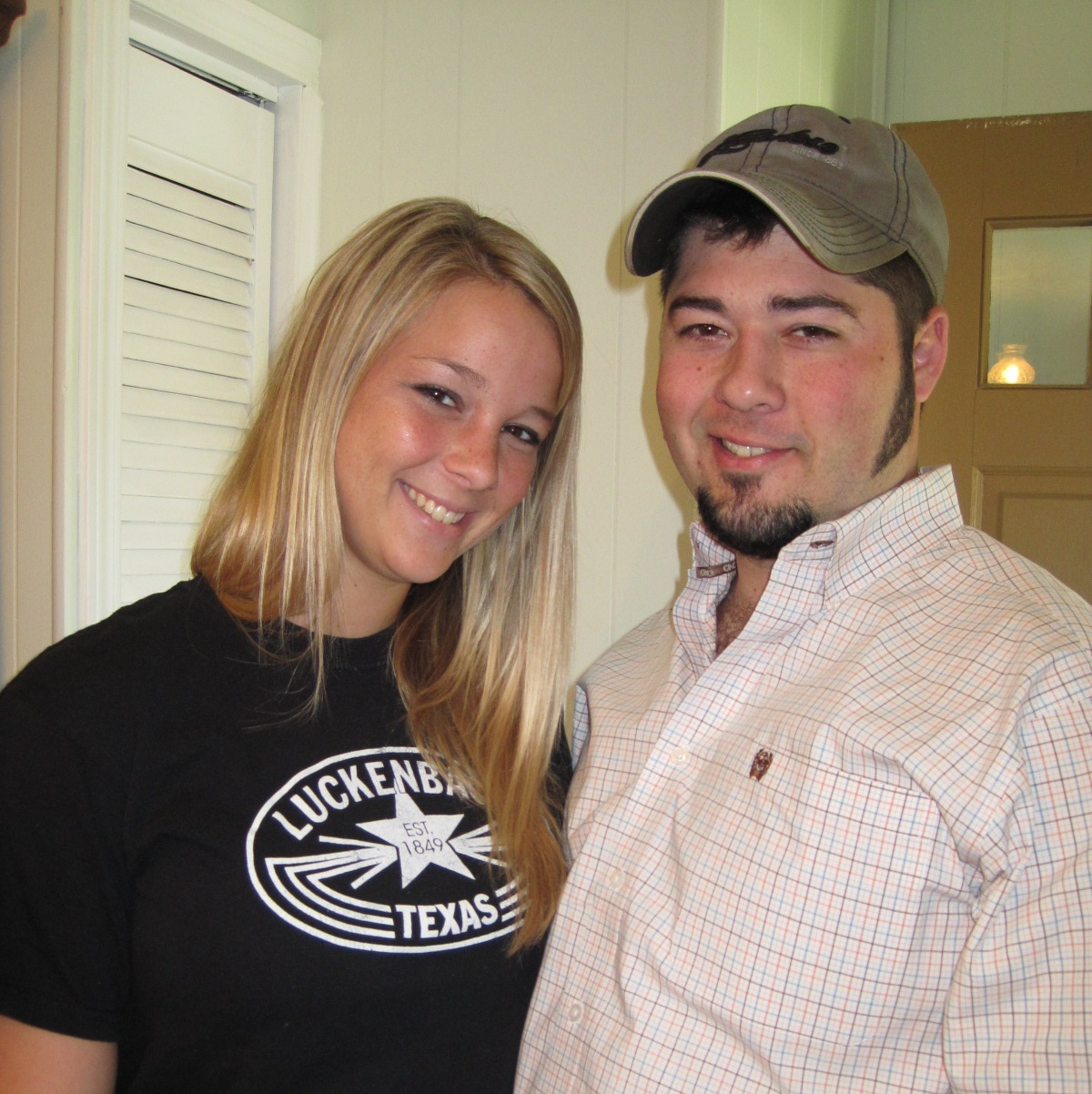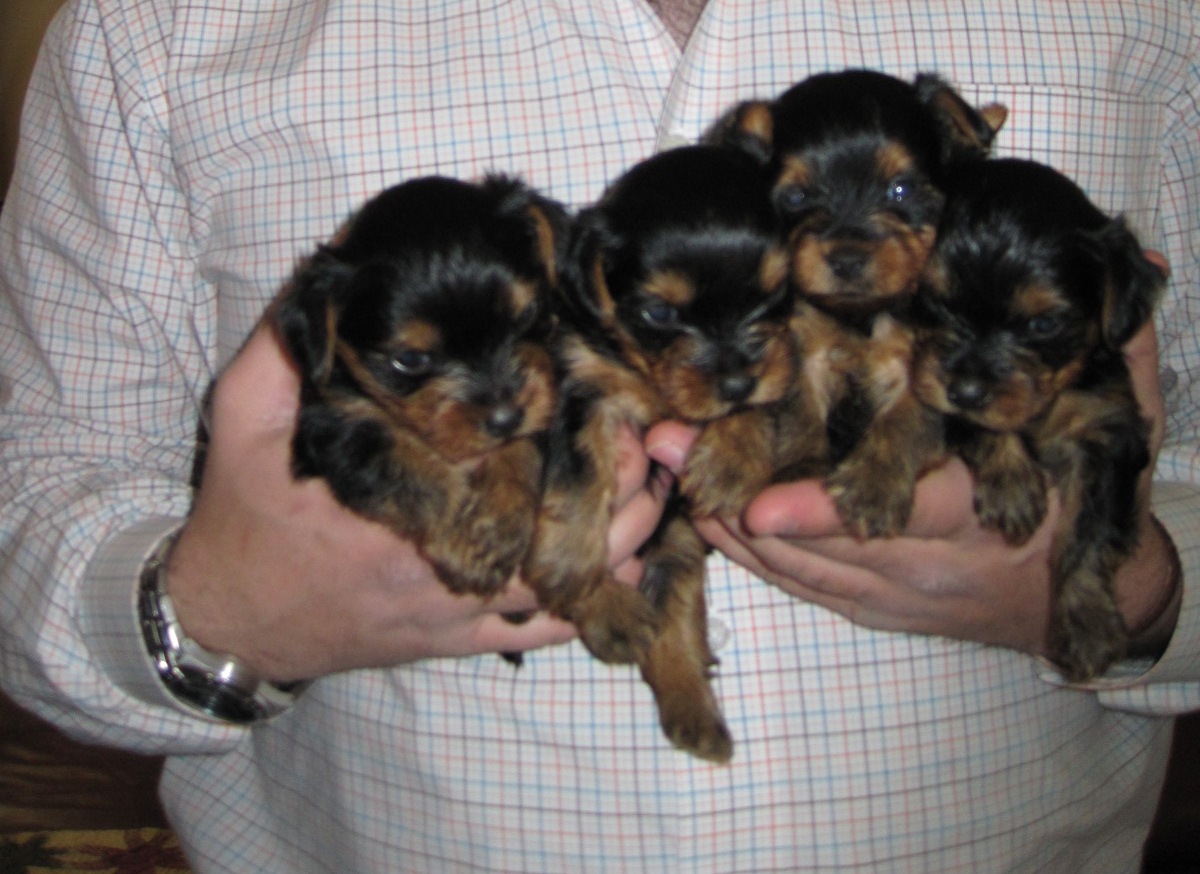 Copyright 2010 Pocketbook Pups:  Yorkshire Terrier Puppies for Sale.  All Rights Reserved.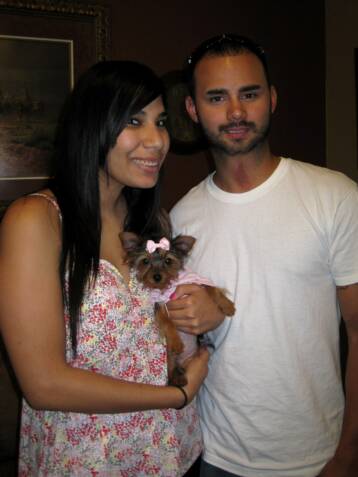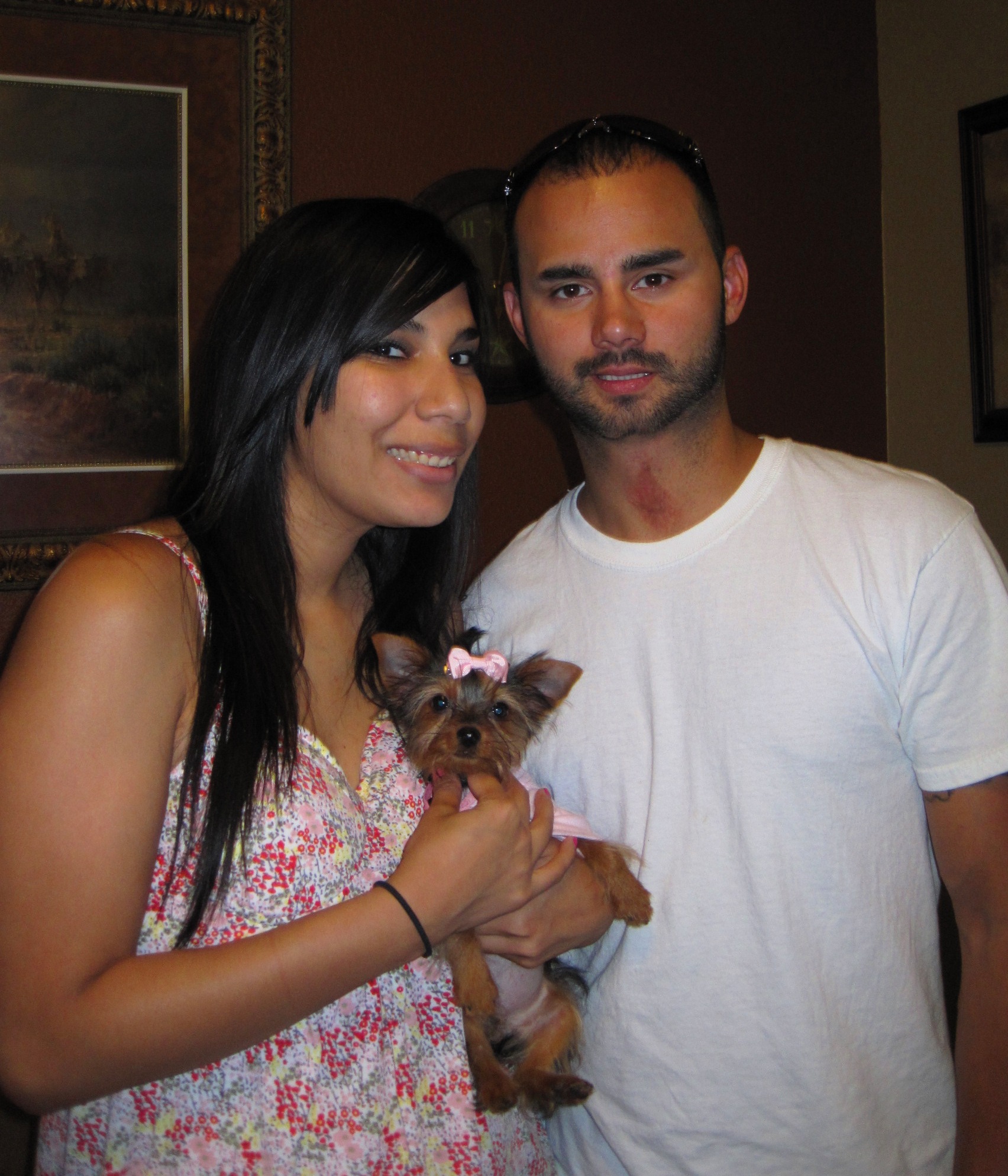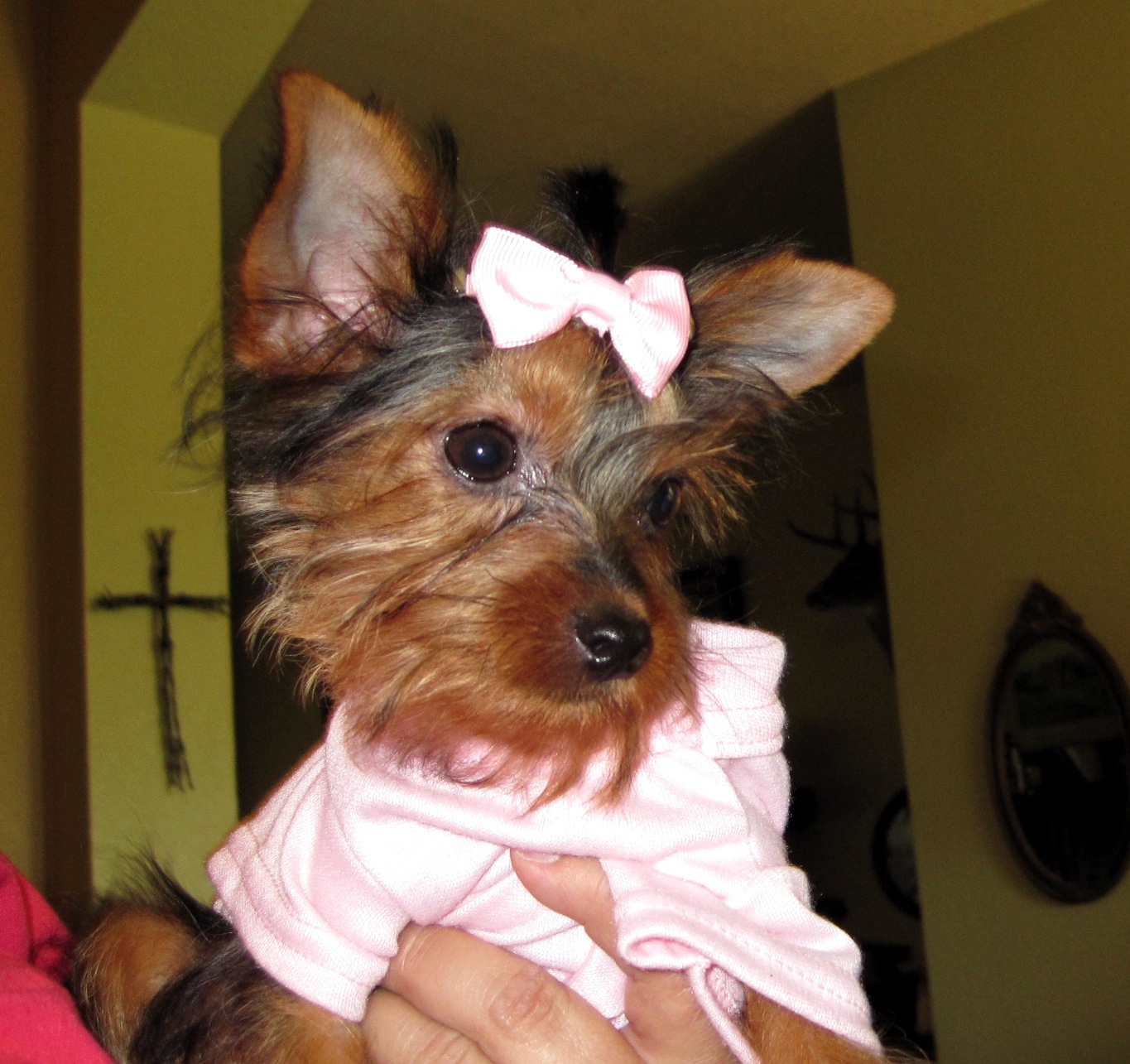 SOLD

Teacup Female Yorkie to:

Lilly Martinez and Matthew Bruder from Round Rock, TX.

They are going to give this little gal a loving home!  We are so happy they were excited about their new puppy.

Thank you!

XOXOXO